Main Content
You are here
Protect Florida's Most Precious Cargo
Support Booster Seat Legislation in Florida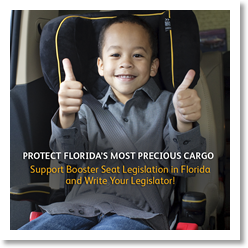 Please help keep kids in Florida safe and ask your legislators to support booster seat legislation in Florida.
House Bill 225 successfully passed through the Transportation & Highway Safety Subcommittee and is scheduled to be heard by the House Transportation and Economic Affairs Committee.
With the momentum we currently have, statewide support is more critical than ever. Please contact the following committee chairs and encourage them to support this important child safety legislation when it reaches their respective committees.
House Calls:
A call shouldn't take more than a few minutes of your time and here are some talking points you can use:
I urge you to support and cosponsor HB 225 by Rep. Perry and SB 518 by Sen. Flores during the 2014 legislation session that will protect children in State of Florida.
Florida is one of only two states that does not require the use of booster seats which is the only restraint that offers appropriate occupant protection for children 4 to 8 years of age.
Motor vehicle accidents are the leading cause of death and acquired disabilities to children 4 to 8 years of age.
Research has shown that children 4 through 7 year of age in states with booster seat legislation are 39% more likely to be appropriately restrained as compared to children in other states.
Emails:
You can also use this link to send an email message to your local legislative members urging them to support HB 225 and SB 518.