Main Content
You are here
TV and Furniture Tip-Overs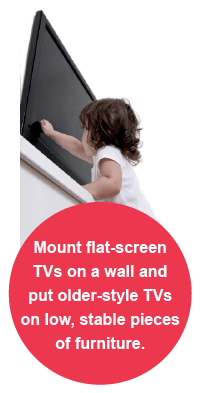 You wouldn't think to bring a baby home from the hospital without a car seat or have your child ride a bike without a helmet. Protecting your children from the potential risk of TV and furniture tip-overs is another important part of keeping them safe.
The Hard Facts
In 2011 alone, every 10 days a child died from a television tipping over. Over the past 10 years, a child visited the emergency room every 45 minutes because of a TV tipping over.
Top Tips
Assess the stability of the TVs in your home.
Mount flat-screen TVs to the wall to prevent them from toppling off stands. Follow the manufacturer's instructions to ensure that you have a secure fit.
If you have a large, heavy, old-style cathode ray tube (CRT) TV, place it on a low, stable piece of furniture.
Use brackets, braces or wall straps to secure unstable or top-heavy furniture to the wall.
Learn More
These tips will help get you started, but if you're interested in learning more about how to keep your family safe from TV and furniture tip-overs, read here.