Main Content
You are here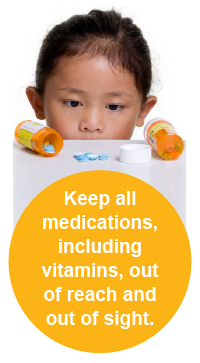 Children are curious by nature, and it makes sense that they would be even more curious when it comes to medication. Many medications look and taste like candy. While it's important to encourage our kids to explore and discover new things, when it comes to medication, we want to be careful to keep them safe. Here are a few tips to show you how.
The Hard Facts
Medications are the leading cause of child poisoning. Every year, more than 67,000 children go to an emergency room for medicine poisoning. That's one child every eight minutes. Almost all of these visits are because the child got into medicines while their parent or caregiver wasn't looking.
Top Tips
Put medicines up and away and out of sight. Make sure that all medicines, including vitamins and adult medicines, are stored out of reach and out of sight of children. (In 86% of emergency room visits for medicine poisoning, the child got into medicine belonging to an adult.)
Consider places where kids get into medicine. Kids get into medication in all sorts of places, like in purses and nightstands. (In 67% of cases, the medicine was within reach of a child, such as in a purse, left on a counter or dresser or found on the ground.)
Consider products you might not think about as medicines. Most parents know to store medicine up and away - or at least the products they consider to be medicine. But they don't always think about products such as diaper rash remedies or eye drops, which may not seem like medicine but can cause harm.
Use the dosing device that comes with the medicine. Proper dosing is important, particularly for young children. Use the dosing device that comes with the medicine. Kitchen spoons aren't all the same, and a teaspoon and tablespoon used for cooking won't measure the same amount as the dosing device.
Put the toll-free number for the Poison Control Center (1-800-222-1222) into your home and cell phone. You should also post it near your phone or on your refrigerator for the babysitter. Hopefully you'll never need it, but it's nice to have just in case.
Learn More
Medication safety is especially important for children under 5, but every parent will want to learn all they can about medication safety. Here are some additional tips to help you out.