You are here
Baby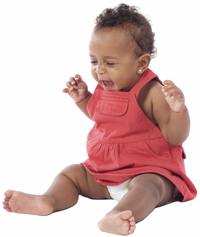 Congratulations on your new baby. You're going to be a great parent, and we'll be right here with you so you're not alone.
First things first: Did you watch how the hospital nurses treated your new baby? If so, you noticed the way they pull and twist and stick and scrub. It makes you realize that these babies are not as delicate as you think. So don't worry about the little things. Babies are tough.
But learning about a few safety tips at each stage of your baby's development is a great way to ensure that your baby will grow up curious and active and safe.
So welcome.
On this site, you will find the top tips every parent needs to keep their babies safe. Think of us as your go-to source for safety information.
There are also other resources such as checklists and videos that will give you the tools you need to ensure that your baby stays safe.
Because when it comes to keeping kids active and safe, we're all in this together.
Top 5 Tips to Protect Your Baby
A firm mattress and fitted sheet are all you need for your baby's crib. Remove blankets and toys.

Learn to use your child's car seat the right way. Use this checklist to help.

Make sure you have both a working smoke alarm and a carbon monoxide alarm on every level of your home, and in all sleeping areas. Test the alarms to make sure they work.

Place your baby's crib and other furniture away from windows and blinds. Your baby is safer without any strings or cords within reach.

Set your water heater to 120F to avoid scalds.
More Safety Tips and Tools
---
Resources