500 Children are Killed in Road Crashes Every Day: Raise Your Voice to Save a Life
Written by former CEO & President, Kate Carr.
Did you know that more than 500 children are killed in road crashes every day and tens of thousands more are injured? Road traffic deaths are a global epidemic that doesn't get nearly the attention it deserves.
Not only are children at high risk in vehicles, on bicycles, and on motorcycles, they are vulnerable as pedestrians and often at serious risk of being injured or killed in the simple act of walking to school.
Want to see for yourself?
Watch these kids from around the world as they show you the challenges of trying to get to school and home safely.
As you can see, our most vulnerable road users, our children, need us to be strong advocates and change agents.
That's why leaders from around the world met in Washington, D.C. last week for the Safe Roads | Safe Kids Summit. Supported by FedEx, the General Motors Foundation, the FIA Foundation, DENSO, and Uber, the two-day Summit brought together international organizations, governments, corporations, foundations, non-governmental organizations, parents, and young activists.
The Summit focused on key steps we can take now to meet the United Nations' Global Goals, which calls for cutting traffic deaths in half by 2020. This includes improved child passenger safety, pedestrian safety, and safety for kids on bikes and motorbikes.
One of the most important outcomes of our Summit is a consensus to focus on safe school zones as a starting point for achieving better road safety throughout our communities. No matter where we live, we can all raise our voices about the importance of:
Identifying high risk school zones and aggressively pursue proven interventions, like crosswalks, visible signs, crossing guards and traffic lights;
Ramping up advocacy efforts on speed limits in school zones to keep speed at no more than 20 miles per hour (or 30 kilometers per hour).
Implementing and enforcing school policies regarding drop off and pick up of students since we know it leads to safer driving habits.
Asking parents and students to do their parts by talking about how to walk safely and avoiding distractions.
As the children in the video said, we need you to lead the way. Will you help us raise awareness about this growing epidemic? Here's one easy way:
Take a "Safie" (our version of a selfie) to show what you will do to protect kids on their way to school and share it through your social media network with the hashtag: #protectkids. A "Safie" template can be found here. And please, ask your friends and family to join in as well. It will only take a few minutes but if we all get involved, it will make a big difference.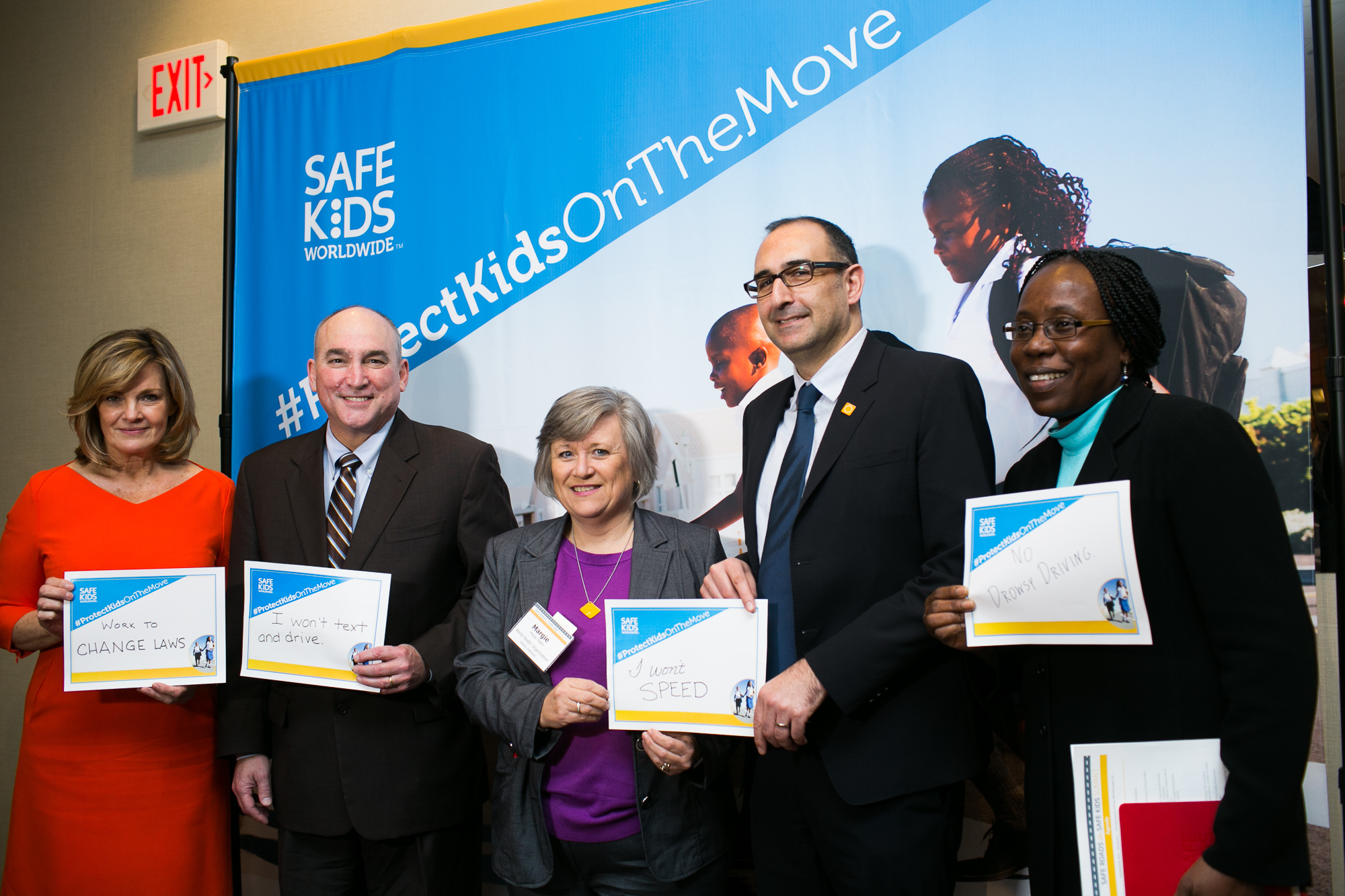 Our own Safie with Kate Carr, Safe Kids Worldwide; The Honorable Gregory Nadeau, US Federal Highway Administration; Margie Peden, World Health Organization; Saul Billingsley, FIA Foundation; Gbemisola Akinboyo, UNICEF at Safe Roads | Safe Kids Summit.
We all need to participate if we hope to reach the ultimate goal of zero deaths and injuries for the next generation. Together, we can all raise our voices and show the world that there is nothing more important than protecting our kids.