You are here
Stories That Move You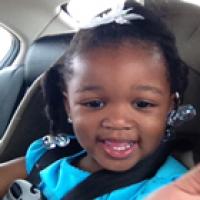 One mom's constant reminder about the dangers of TV tip-overs.
My name is Keisha Bowles. Last year, the unthinkable happened to my family. My beautiful 2-year-old daughter, Sydney Chance, was killed in a tragic accident.
Sydney Chance, or "Chance" as we typically called her, was a wonderful, curious little girl. She loved to explore and was totally fearless. She adored butterflies and loved to dance and sing.
One night on April 3, 2012, shortly after dinner, Chance was playing around the house. She was running back and forth between her 7-year old brother, Brandon's, room and my bedroom. The last thing she said to me was "I love you, mama." And I said, "I love you too, Chance."
In Brandon's bedroom, Chance began pulling out the drawers to the dresser in order to climb up and reach a TV, which was sitting on top.
With nothing to secure either the TV or the dresser, the weight of the opened drawers and Chance's body steadily climbing up was enough to tip everything. In an instant, both the TV and dresser fell over.
My son started screaming and crying and ran to get me. What I saw when I entered the room will stay with me forever.
Chance was lying on the floor, unconscious. It was a mother's worst nightmare.
I called 911, and Chance was airlifted to Arkansas Children's Hospital in Little Rock, which is about 35 minutes away from Conway, where we used to live in. There wasn't enough room for me in the helicopter, so I drove to the hospital to meet Chance.
I don't remember much about the ride over, but I know I must've driven really fast because I beat the helicopter back to the hospital.
The doctors told me they would do everything they could, but it didn't look good. They didn't give me much hope. The force and weight of the TV and furniture were too much for Chance. In just a few minutes, my whole had world changed. Chance died in the hospital the next day.
I think about Chance every minute of every day. I never thought this type of thing could happen to us. We're just a normal family. But now I know it can happen to anyone and I want to tell people to check their homes.
I never knew that a TV or piece of furniture could be dangerous to kids. Before the accident, we secured our flat screen TV to the wall in the living room. I didn't know that we should also secure our old TV in Brandon's room or even the dresser on which it stood.
Since Chance's death, whenever I go into other people's homes, I tell them our story. I talk to them about what parents can do to prevent TVs and furniture from tipping over. After hearing what happened to us, most people do whatever they can to protect their kids and make sure that what happened to my family doesn't happen to them.
Brandon misses his sister so much and asks often, why did she have to leave? One of the hardest parts of her death for me is knowing that it could've been prevented. If I had only known more, things would've been different.
That's why I want to share my story with as many families as possible. I don't want other families to take the chance of this happening to them. Because it only takes a matter of minutes. And lives can be changed forever from something that is 100 percent preventable.