Buying the Right Car Seat
Types of Car Seats
There are three types of car seats: rear-facing, forward-facing and booster seat. Even though there are many different models to choose from, all car seats meet the same U.S. federal safety standards. Keep in mind, if you buy a car seat with a high height and weight limit, it will last longer.
Rear-facing car seat. This is your baby's first car seat, often used from 5 to 40 pounds. Learn about car seats for babies.
Forward-facing car seat. After age two and when a child outgrows a rear-facing car seat by weight or height, move them to a forward-facing car seat with a harness and use the top tether. Learn about car seats for little kids.
Booster seat. Once your child has outgrown the forward-facing seat with a harness, move them to a booster seat. It raises the child so the car's adult lap and shoulder seat belt fits over your child correctly. Learn about booster seats.
Read the Label
Before you buy, read the label. Look for the weight, height and age limits to make sure the car seat is right for your child.
Buying online? Find this information in the product description. Look for a section called "specification" or "specs."
Check your car seat expiration date. You can find the expiration date on your car seat label or imprinted on the plastic. When you throw away an expired or unsafe car seat, take it apart and put the pieces in separate dark trash bags to prevent someone else from using an unsafe car seat.
Car Seat Parts
Here are some of the basic parts on a car seat.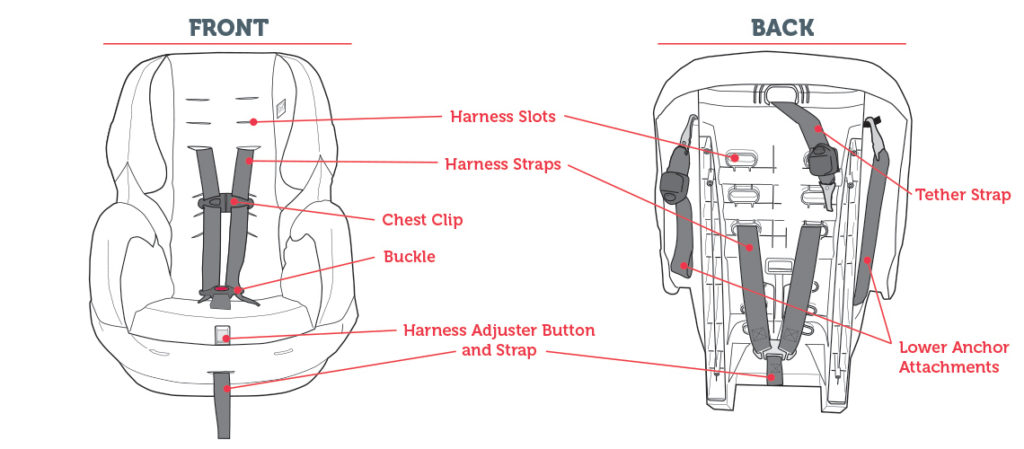 Buy a car seat that already comes with the extra features you want. If you add those extra features (called aftermarket products) later, such as padding for the harness straps, they can make your child less safe.
Register Your Car Seat
Register your car seat. It allows the manufacturer to notify you if there is a safety recall. Don't worry, the information you provide cannot be used for marketing purposes. Get more details about car seat registration.
Used Car Seats
Be wary of used car seats. Don't buy a used car seat unless you know the previous owner or the complete history of the car seat. A used car seat is unsafe if it has been in a crash or if it is missing parts, labels or instructions. A car seat is also unsafe if the manufacturer has issued a safety recall and seat has not been fixed. There's just no way to be sure that a used car seat from a stranger is safe.