You are here
Medication Safety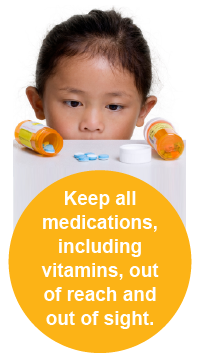 We want to encourage our kids to explore and discover their world, so it's especially important to include medicine safety when childproofing your home. Here are a few tips on how to keep kids safe around medicine.
Hard Facts about Medication Safety
Medicines are the leading cause of child poisoning.
In 2017, nearly 52,000 children under the age of six were seen in the emergency room for medicine poisoning. That's one child every ten minutes.
Top Tips about Medication Safety
Keep medicine up and away, out of reach and sight of children, even medicine you take every day. Kids are naturally curious and can easily get into things, like medicine, if they are kept in places within their reach. Put all medicines and vitamins at or above counter height where kids can't reach or see them.
Consider places where kids get into medicine. Children often find medicine kept in purses or on counters and nightstands. Place bags and briefcases on high shelves or hang them on hooks, out of children's reach and sight.
Remember products you might not think about as medicine. Health products such as vitamins, diaper rash creams and even eye drops can be harmful if kids get into them. Store these items out of reach and sight of children, just as you would over-the-counter and prescription medicines.
Give medicine safely to children. Use only the dosing device that comes with liquid medicine, not a kitchen spoon. When other caregivers are giving your child medicine, write clear instructions about what medicine to give, how much to give and when to give it. Using a medicine schedule can help with communication between caregivers.
Save the Poison Help number in your phone and post it visibly at home: 1-800-222-1222. Specialists at poison control centers provide free, confidential, expert medical advice 24 hours a day. They can answer questions about how to give or take medicine and help with poison emergencies.
Share medicine safety information with family and friends. Teach other caregivers such as family members, babysitters and friends about medicine safety and make sure they know the Poison Help number.
Learn More
Medicines are commonly found in the home, so it is important to learn these medicine safety tips.
Resources