You are here
Big Kids
Sleep Safety and Suffocation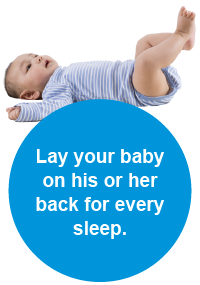 There is nothing more beautiful than a sleeping baby, especially for parents who are often tired themselves. By following a few simple sleep safety tips, you can create a safe place for your baby to sleep and nap.
The Hard Facts About Sleep Safety
Unintentional suffocation is the leading cause of injury-related death among children under 1 year old.
Nearly 3,500 infants die each year in the United States from sleep-related infant deaths..
Causes of sleep-related infant deaths include suffocation, entrapment, strangulation and Sudden Infant Death Syndrome (SIDS).
Top Safety Tips for Sleep Safety
Place babies on their backs for naps and at night until they are 1 year old. Make sure babies sleep on a firm, flat surface in their own crib, bassinet or play yard.
Choose a firm mattress and fitted sheet for baby's crib. Remove toys, blankets, pillows, bumper pads and other accessories from the crib.
Dress baby in a wearable blanket, onesie or similar clothing for every sleep. A loose blanket could cover baby's airway or make their body temperature too high.
Share your room, not your bed. Place baby's crib or bassinet in your bedroom instead of letting baby sleep in the same bed with you.
Follow the manufacturer's instructions to assemble your crib. Make sure to complete and submit the product registration card to learn about any recalls or safety updates.
Learn More about Sleep Safe
Still can't sleep? It happens to all of us. Learn more about sleep safety.
Resources