You are here
Special Needs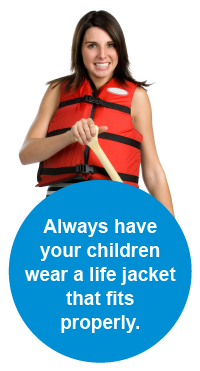 During the warm weather months, families across the country will be spending more time enjoying lakes, rivers and oceans. Being aware of the risks these open waters pose, and following these boating safety tips, can keep those outings fun.
The Hard Facts About Boating Safety
In 2018, 77 percent of all fatal boating accident victims drowned, and of those who drowned, 84 percent were not wearing a life jacket.
Top Tips for Boating Safety
Wear a U.S. Coast Guard-approved life jacket when boating. Choose a life jacket that is right for your child's weight and water activity.
Young kids are at a higher risk for hypothermia, so take extra precautions to keep them warm. If your children seem cold or are shivering, wrap them tightly in a dry blanket or towel.
I Learn basic water rescue skills and CPR. It is important to know how to respond in an emergency without putting yourself at risk of drowning.
Follow the U.S. Coast Guard recommendations for boating safety. Learn about available boating resources, such as free vessel safety checks and boating safety courses.
Learn More About Boating Safety
Get on board and learn more boating safety tips. You can also learn more about swimming safety tips and how to keep kids safe around water in the home.
Resources