You are here
Home Safety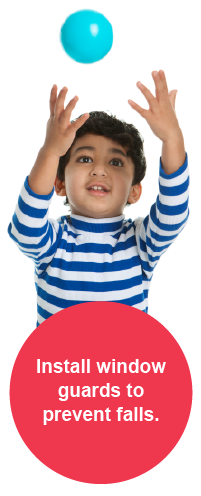 From the moment your baby starts to crawl, the world is a magical place filled with new adventures and discoveries. From a child's perspective, everything is a potential mountain to climb (that giant bookshelf), obstacle to overcome (those pesky stairs) or mysterious place to investigate (anywhere beyond the safety gate). Little bumps will happen but we're here to help so these brave expeditions don't result in something more serious.
The Hard Facts
Unintentional falls are the leading cause of non-fatal injuries for children in the United States. In 2013, unintentional falls resulted in nearly 2,578,235 injuries requiring treatment in an emergency room. These injuries resulted from activities such as climbing on furniture, playing near an unsecured window, falling down stairs or playing on playgrounds.
Top Tips
Screens are meant to keep bugs out, not children in. Properly install window guards to prevent unintentional window falls. For windows above the first floor, include an emergency release device in case of fire.
Keep babies and young kids strapped in when using high chairs, infant carriers, swings or strollers. When placing your baby into a carrier, remember to place the carrier on the floor, not on top of a table or other furniture.
Use approved safety gates at the tops and bottoms of stairs and attach them to the wall, if possible. Remember to read the manufacturer's instructions and warning labels to make sure you have the right gate for your needs. Not all gates are safe for use at the top of stairs.
Secure TVs and furniture to the wall using mounts, brackets, braces, anchors or wall straps to prevent tip-overs. These kinds of accidents happen more than you might think, so take a few minutes, secure your TV and furniture, and then never worry about it again.
Take your kids to playgrounds with shock-absorbing surfaces such as rubber, synthetic turf, sand, pea gravel, wood chips or mulch. If your child falls, the landing will be more cushioned than on asphalt, concrete, grass or dirt.
Learn More
Looking for more ways to prevent falls? Walk, don't run, to get more safety tips.
Resources