You are here
Guns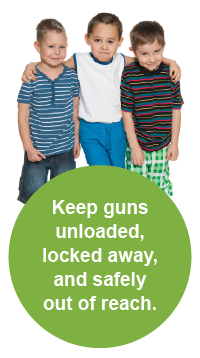 We need to take extra precautions when kids are in an environment where guns are present.
The Hard Facts
It is estimated that about one third of households with childrens ages 18 and under have a gun in the home.
Top Tips
Store guns in a locked location, unloaded, out of the reach and sight of children.
Store ammunition in a separate locked location, out of the reach and sight of children.
Keep the keys and combinations hidden.
When a gun is not being stored, it should be on your person and in your immediate control at all times. Otherwise, a gun should always be stored locked, unloaded and separate from ammunition.
Make sure all guns are equipped with effective, child-resistant gun locks.
Learn More
Learn more ways to keep your children safe when guns are present.
Resources