Main Content
One of the best ways to keep kids safe is to spread the word. And that's where you and the rest of our Shout Out Team come into play.
Every few weeks, we'll have something for you on our website. It might be a new video, an interesting blog, an intriguing statistic or a captivating graphic. One thing is for sure: It will always be a compelling way to help keep the kids in your life safe.
All we ask of you is that you share it with your family, friends and anyone you know who cares about children. It's that simple, but it will make a big difference for kids around the world.
And that's what the Shout Out Team is all about.
Shout Out
Spread the Word About Home Safety
Safe Kids Worldwide launched a new research report today on home safety. "Report to the Nation: Protecting Children in Your Home," a report made possible by funding from Nationwide, explores what parents are concerned about and what they do – and don't do – to keep kids safe in the home.
Every day, six children die from an injury in the home, and 10,000 go to the emergency department for the kinds of injuries that commonly happen in homes.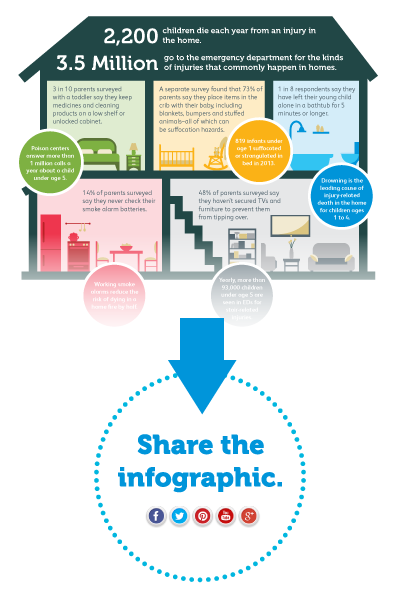 Spread the Word
You can help prevent this. We created a new infographic that has facts and tips to keep kids safe in the home.
Please, take a minute to share this infographic on social media to help keep kids safe at home.
Thanks for your dedication to keeping kids safe.