Main Content
Keep Your Home Safe: Recycle Your Old TVs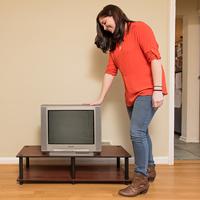 National TV Safety Day is January 31
Safe Kids Worldwide and the Consumer Electronics Association (CEA)® are once again teaming up to help make your home safer. We encourage parents and caregivers to recycle heavier, box-style, cathode ray tube (CRT) televisions, which can be hazards for children if not placed on a low, stable piece of furniture.
If not properly secured, heavier CRT televisions can tip over and harm small children. In fact, every three weeks in the U.S. a child dies from a TV tipping over. But these incidents are preventable with a few simple steps.
Special Report: Recycle Your TV
Watch this video to learn how to keep kids safe from TV tip-overs by recycling your old TV.
Recycle Old TVs to Prevent TV Tip-Overs
Here are three things you can do with your old TV to help keep kids safer in your home and improve the environment:
Secure your TV. If you have an older TV, make sure you either secure it to a wall or place it on a low, stable piece of furniture that is appropriate for the TV's size and weight.
Recycle your TV. To find a location near your home that safely and easily recycles unwanted TVs, go to www.GreenerGadgets.org.
If you're replacing your CRT TV with a new TV, be sure your flat-panel TV is properly secured with a mount that has a safety certification by an independent laboratory (such as UL, CSA, ETL).
Why TV Safety is Important
Every three weeks a child in the U.S. dies from a television tipping over. Many of these tragedies are caused by old tube TVs that are not secure.
Here's the problem: When new TVs are brought into homes, heavier, box-style CRT TVs are often moved to other rooms and placed on dressers or high furniture, where they may be used with game consoles, DVD players or VCRs.
Here's what you need to do: Secure your flat-panel televisions to the wall using a mount or straps. If you have a CRT TV, place it on a low, stable piece of furniture. And if you no longer use your CRT TV, we recommend you remove it from your home entirely and recycle it.