Main Content
Make TV Safety Part of Your Childproofing Plan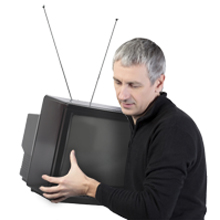 We are teaming up with Consumer Electronics Association (CEA)® to make homes safer by encouraging families to recycle older cathode ray tube (CRT) televisions, which can be a hazard if not placed on a low, stable piece of furniture.
Did you know that every 45 minutes a child is rushed to the emergency room for a TV tip-over injury? If not properly secured, TVs can tip over and harm a small child. But there is good news. We can prevent TV tip-overs from happening in the first place with a few simple steps.
Recycle Old TVs to Prevent TV Tip-Overs

Here are 3 things you can do with your old TV to help keep kids safe and improve the environment.
Secure your TV. If you have an older TV, make sure you place it on a low, stable piece of furniture that is appropriate for the TV's size and weight.
If you're replacing your CRT TV with a new TV, be sure it's properly secured.
Video: special report: recycle your TV
Why TV Safety is Important

Every 3 weeks a child dies from a television tipping over. Many of these tragedies are due to old tube TVs that aren't secure.
Here's the problem: When new TVs are brought into homes, large and heavier cathode ray tube (CRT) TVs are often moved to other rooms and placed on dressers or high furniture, where they may be repurposed for use with game consoles, DVD players or VCRs.
Here is what you need to do: For families with flat panel televisions, TVs should be mounted to the wall to reduce the risk of TV tip-overs. If you have a CRT TV, place it on a low, stable piece of furniture. And if you no longer use your CRT TV, we recommend you remove it from the home and recycle it.