You are here
Kids In Autonomous Vehicles Members of the Blue Ribbon Panel
Members of the Blue Ribbon Panel on Children in Autonomous Vehicles
This voluntary panel is composed of nationally-recognized child safety advocates and transportation experts from a range of sectors representing public policy, behavioral science, human factors research, automobile testing, product liability, developmental pediatrics, consumer advocacy and education, law enforcement, product design, car seat manufacturers, and automakers.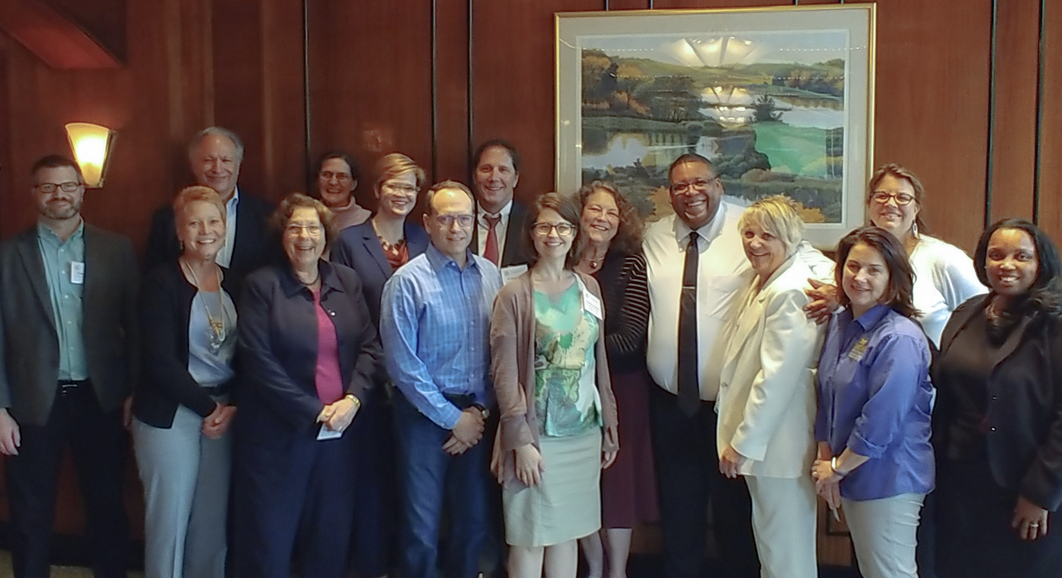 (From L to R: Corey Campbell, Jennifer Stockburger, Mark Rosekind, Marilyn Bull, Patrice Tremoulet, Jessica Jermakian, Ben Hoffman, R. Douglas Gentile, Facilitator Christene Jennings, Andrea Gielen, David Strickland, Lorrie Walker, Miriam Manary, Courtney Barry, Torine Creppy. Panelists who participated remotely not included in photo: Michael Brown, Steve Gehring, and Russ Martin)
The members of the Blue Ribbon Panel on Children in Autonomous Vehicles are:
Torine Creppy
President
Safe Kids Worldwide (Blue Ribbon Panel on Children in Autonomous Vehicles Chair)

Courtney Barry
Chair
Manufacturers Alliance for Child Passenger Safety

Michael Brown
Chief of Police
City of Alexandria, Virginia

Marilyn Bull, M.D., F.A.A.P.
Past Chairperson, Committee on Injury Prevention, and Past Member, AAP Board of Directors
American Academy of Pediatrics

Corey Campbell
Vice President
David E. Campbell & Associates, Inc.

Steve Gehring
Vice President, Vehicle Safety and Connected Automation
Global Automakers

R. Douglas Gentile
Attorney
Rouse Frets Gentile and Rhodes, LLC

Andrea Gielen, Sc.D., Sc.M.
Professor & Director, Johns Hopkins, Center for Injury Research and Policy
Johns Hopkins Bloomberg School of Public Health

Benjamin Hoffman, M.D., F.A.A.P; CPST-I
Chairperson, Council on Injury, Violence, and Poison Prevention
American Academy of Pediatrics

Jessica Jermakian, D.Sc.
Senior Research Engineer
Insurance Institute for Highway Safety

Miriam Manary, MSE
Senior Research Associate
University of Michigan Transportation Research Institute

Russ Martin
Director, Government Affairs
Governors Highway Safety Association

Mark Rosekind, Ph.D.
Chief Safety Innovation Officer
Zoox

David Strickland, J.D.
Counsel
Self-Driving Coalition for Safer Streets

Jennifer Stockburger
Director of Operations, Consumer Reports Auto Test Center
Consumer Reports

Patrice Tremoulet, Ph.D.
Human Factors Scientist
The Center for Injury Research and Prevention of the Children's Hospital of Philadelphia
Assistant Professor, Rowan University Psychology Department

Lorrie Walker, M.Sc.; CPST-I
Training and Technical Advisor
Safe Kids Worldwide
**Anne Marie Lewis, Ph.D., Director of Safety and Technology Policy for the Alliance of Automobile Manufacturers participated as an observer of the Blue Ribbon Panel. Observers do not necessarily endorse the Blue Ribbon Panel's findings, recommendations or final reports.