You are here
Home Safety
Home fires can start and spread quickly, so just a little bit of planning can make a big difference. Make sure to create a home fire escape plan and practice it regularly with your family.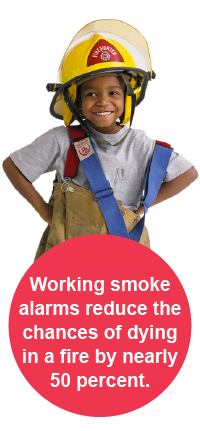 Hard Facts About Fire Safety
In 2017, 268 children died in home fires.
Nearly eighty-seven percent of all fire-related deaths are due to home fires, which spread rapidly and can leave families as little as two minutes to escape once an alarm sounds.
Fires are not just a problem in the United States. In 2017, more than 27,000 children around the world died due to a fire or burn.
Working smoke alarms reduce the chances of dying in a reported home fire by fifty percent.
Top Tips for Fire Safety
Check smoke alarms. Make sure there is a working smoke alarm on every level of your home, inside bedrooms and near sleeping areas. Test smoke alarms every month and replace them every 10 years or when the battery is low.
Create and practice a fire escape plan. Create a home fire escape plan with two ways out of every room. Choose a place to meet outside that is a safe distance away from your home.
Practice a home fire drill at least twice a year. Practice a home fire drill with your family during the day and at night. Practice escaping in under two minutes. Sometimes that is all the time you will have to get out of the house safely.
If there is a fire, leave home immediately. If there is a lot of smoke, get low and crawl out of the house as quickly as possible. Call 911 after you are a safe distance away from your home.
Learn More
Learn more fire safety tips. You can also learn more about preventing burns and scalds, carbon monoxide poisoning and how to be safe around fireworks.
Resources