You are here
Car and Road Safety
Choking and Strangulation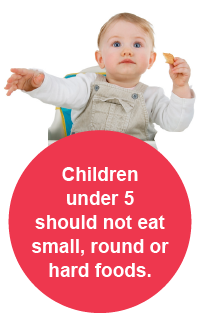 Is there a cell phone or set of car keys that hasn't made its way into your toddler's mouth? We didn't think so. Don't despair – there are simple tips that can help keep your children from getting injured as a result of their compulsive need to teethe, suck and drool on everyday objects and toys.
The Hard Facts
Among children treated in emergency rooms for non-fatal choking incidents, almost 60 percent were food-related. Overall, 13 percent of cases involved swallowing coins and 19 percent involved candy or gum.
Top Tips
Cut food for toddlers into tiny pieces. Children under 5 should not eat small, round or hard foods, including pieces of hot dogs, cheese sticks or chunks, hard candy, nuts, grapes, marshmallows or popcorn.
Consider your child's age when purchasing a toy or game. It's worth a second to read the instructions and warning labels to make sure it's just right for your child.
Before you've settled on the perfect toy, check to make sure there aren't any small parts or other potential choking hazards.
Keep small magnets away from children. These include magnets found in construction sets, children's toys or stress-relieving adult desk toys; refrigerator magnets; and rare earth magnets such as Buckyballs.
Keep cords and strings, including those attached to window blinds, out of your child's reach. For your crawlers and climbers, move chairs, cribs and other furniture away from windows to help prevent window falls. Just make a few moves now and you don't have to worry about it later.
Learn More
Living with a human vacuum? Learn more about foods, objects and household accessories that pose a hazard to young children.
Resources