You are here
Water Safety at Home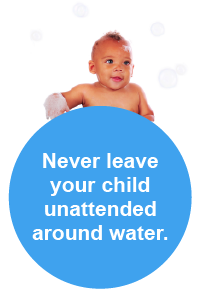 When you think of places where kids are around water, you may think of recreational areas such as pools, lakes and oceans. But have you thought about the areas in your home where kids can get into water? Use these tips for water safety at home, whether your kids are in bathtubs, backyard pools or around buckets.
The Hard Facts About Drowning
Drowning is the leading cause of injury-related death among children between 1 and 4 years old.
And it's the third leading cause of unintentional injury-related death among children 19 and under.
Children less than a year old are more likely to drown at home in the bathtub or a bucket.
Top Tips
Watch kids when they are in or around water, without being distracted. Young children can drown in as little as one inch of water, so it's important to keep them within an arm's reach of an adult.
Empty tubs, buckets, containers and kids' pools immediately after use. Store them upside down and out of children's reach.
Close lids and doors. Keep toilet lids and doors to bathrooms and laundry rooms closed when not in use.
Install fences around home pools. A pool fence should surround all sides of the pool and be at least four feet tall with self-closing and self-latching gates.
Learn CPR and basic water rescue skills. It is important to know how to respond in an emergency without putting yourself at risk.
Learn More About Water Safety at Home
Many kids love being around water, so it's important to learn these water safety tips for your home. You can also learn more about swimming safety tips and boating safety tips.
Resources