Main Content
One of the best ways to keep kids safe is to spread the word. And that's where you and the rest of our Shout Out Team come into play.
Every few weeks, we'll have something for you on our website. It might be a new video, an interesting blog, an intriguing statistic or a captivating graphic. One thing is for sure: It will always be a compelling way to help keep the kids in your life safe.
All we ask of you is that you share it with your family, friends and anyone you know who cares about children. It's that simple, but it will make a big difference for kids around the world.
And that's what the Shout Out Team is all about.
Shout Out
We've got an ambitious goal to help protect kids and we need your help.

On April 9, 2014, we want millions of people to learn about Safe Kids and the work we do to protect kids from preventable injuries, the #1 killer of children.
Join Our Thunderclap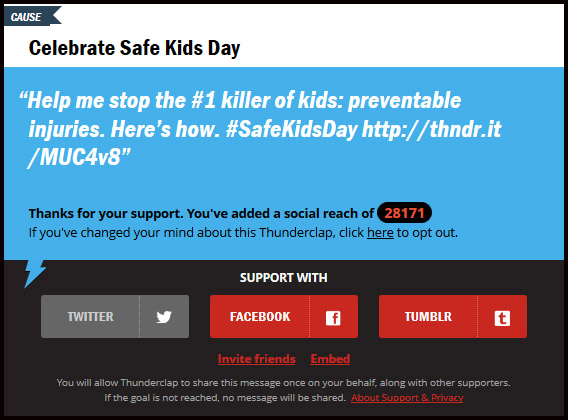 Share with Your Friends
Help us make some noise by going to http://thndr.it/1qg6pnN and signing up for our Thunderclap. When you sign-up, you'll have an option of sending a message to followers and friends – please do this step to help spread the word!

Thanks for sharing,
Join Us