The 2017 United Nations Global Road Safety Week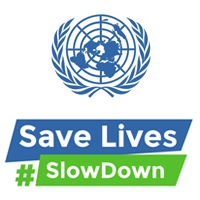 Today is the beginning of the United Nation's 4th Global Road Safety Week (GRSW), a time to raise awareness about the 1.25 million people who die each year in road crashes around the world.
That's an alarming number — but even more heart-breaking is how traffic accidents affect children and youngsters:
Road traffic injuries are the leading cause of death among young people.
500 children die on the world's roads every day — one child every 3 minutes—on bikes, in vehicles, as pedestrians and in the simple act of walking to school. Tens of thousands more are injured, often with lasting disabilities.
Most tragic of all, many of these deaths are due to injuries that could have been prevented by reducing speed, cracking down on drinking and driving, using helmets on bikes and motorcycles, restraining children in vehicles, and establishing safe school zones. All of these are incredibly important steps that will prevent injuries and save lives.
During Global Road Safety Week, Safe Kids is involved in several activities to protect kids on the roads.
We're promoting the United Nations Global Road Safety Week's #slowdown campaign to increase understanding of the dangers of speed, with a special focus on how it impacts the safety of children.
We're also hosting road safety events and activities with coalitions and partners in communities around the world to educate families on how to keep kids safe, whether they're on sidewalks, walking on roads, or riding in cars. Our community events will promote:
Passenger safety through Buckle Up car seat installation and inspection events in partnership with Chevrolet, and more than 100 classes are taking place to train Child Passenger Seat Technicians.
Pedestrian safety with Walk this Way events and celebrations of recently-completed Safe School Zone projects, made possible with the support of FedEx.
Wheeled sports safety with National Bike to School Day on May 10. In addition, coalitions are hosting Ready to Roll workshops supported by Nationwide to teach children and their parents the importance of wearing safety gear and knowing the rules of the road.
Safe Kids Worldwide will be supporting GRSW events in Austria, Uruguay, Spain, Argentina, Israel, Cambodia, New Zealand, Nepal, Jordan, Ecuador, Cameroon, Malaysia, Kenya, South Africa, Vietnam, China, Thailand and India.
At Safe Kids Worldwide, we not only support GRSW, but also work on the issue of road safety every day as part of our mission to prevent childhood injuries on the road, in the home and at play. Please join us in creating a safer future for our children – and for all of us. To learn more, visit Safekids.org.