3 Safety Activities for Every Family During National Fire Prevention Week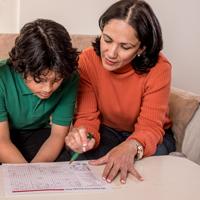 It's National Fire Prevention Week and this year's theme is "Serving Up Fire Safety in the Kitchen." As parents focus on several priorities at once, more kids are helping out in the kitchen, which makes this the perfect time to talk with your kids about fire safety, how to prevent kitchen fires, and what to do in an emergency.
Here are 3 activities to help you and your kids have fun while learning about fire safety:
Create a kid-free zone in the kitchen for younger kids. If you have younger children, one way to help prevent burns is by teaching them to stay at least 3 feet away from your cooking space – this includes stoves, ovens and outdoor grills. Let your kids help mark the area with colored tape or chalk (if you are outside). Practice walking around the kid-free zone with your children without stepping inside the marked off area.
Teach older kids how to cook safely. Use this cooking safety checklist from our friends at the National Fire Protection Association (NFPA) to help talk with your kids about important ways to stay safe in the kitchen. Remind kids to stay in the kitchen the entire time they are cooking and use oven mitts or potholders to carry hot dishes, pots and pans. If kids are using the microwave, remind them to be extra careful. Dishes that have been in the microwave can be hot and the steam from hot foods can burn fingers and faces.
Join us for Home Fire Drill Day! We practice fire drills at school and at work, why not set aside time to practice a fire drill at home? Join Safe Kids on Saturday, October 10 to observe Home Fire Drill Day! This is a fun way to get the whole family involved in practicing fire safety. Create and follow your fire escape plan and clear your exit paths of clutter or furniture that might be in the way. Make it a goal for everyone in your family to exit the home in less than two minutes – sometimes that is all the time you may have to get out safely. Remember to practice the fire drill during the day and at night, and give extra support to adults and children who may need someone to help them out of the home. To get started, download a fire escape plan worksheet in English or Spanish.
Here are more fun games and apps from NFPA. And also a great video to watch with your kids.