5 Tips for Choosing Your Baby's First Car Seat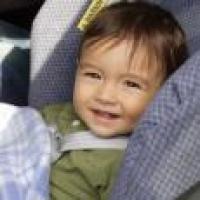 When you're expecting a baby – especially if it's your first – there are lots of things you might want to have on hand: A crib, a baby monitor, a box of diapers (or ten!).
But perhaps the most important piece of gear is your baby's first car seat. You'll need one for the ride home from the hospital, and for every ride until your child can ride safely using just a seatbelt. That can be as long as 10 years!
So with all the different options on the market, how do you choose the right car seat for your baby?
Here are the 5 important things to consider when selecting your baby's first car seat:
Know your options: Your little one will need a rear-facing car seat until he or she outgrows the highest height or weight allowed by the manufacturer, usually at 2 years of age or more. Riding in a rear-facing car seat offers the best protection for your child's head, neck and spine in the event of a crash. There are three types of rear-facing seats to choose from:

Rear-facing only car seats. Many of these are portable: the seat can be used as a baby carrier, or in a stroller, while the base stays in the car. (You can buy additional bases to put in different cars.)
Convertible car seats. These are larger and can be used rear-facing and then turned to face forward when the child is ready. These generally are not portable; they stay in the car and can be used by a child weighing from 4 – 50 pounds, or more. Carefully read labels!
A 3-in-1 car seat. This can be used rear-facing, forward-facing and later, as a booster. Like the convertible seat, it is not easily carried from car to car.
All three options are safe and good choices, depending on your needs and lifestyle. Read labels, not the box, for details.

Consider Your Budget: Obviously safety is your prime consideration, but don't make the mistake of thinking the more you spend, the safer the seat. The National Highway Traffic Safety Administration holds all car seats on the market to the same safety standards, so while they may look different, all do the same good job of protecting your child. (With more expensive seats, you may be paying for features like leather seat pads or an extra cup holder—not always better protection.) You can find a lot of great options, including car seats that will last for six or more years, for less than $100. A word of caution: Don't try to save money by buying a used car seat. Unless the car seat is brand new, you can't be certain all its parts are intact; that it has never been in a crash and that it's not expired or recalled.
Check the fit: Car seats are not a one-size-fits-all proposition. Depending on the size of your vehicle, you may need a smaller (or larger) one. Look in your back seat to determine where you'll want to place the car seat. You may want to install your car seat in the middle position of the back seat, but in certain cars, the middle position may not be wide enough. To be certain, measure the spot where you plan to put the car seat and compare the dimensions with those of the base on the car seat you want to buy. The only way to really know is to test it out. Ask the retailer to try the display model before you buy to make sure it fits. You may need to leave your license at customer service to do this.
Install the car seat correctly: Check your car's owner manual – and the instructions that come with the car seat – as a first step toward installing the car seat properly. Generally, there are two options to attach your car seat to the car: Use either the seat belt or the car's LATCH system and pay very close attention to detail. You use each differently for rear-facing and forward-facing seats. For more detailed instruction, consult the Safe Kids Worldwide's Ultimate Car Seat Guide (UCSG) and watch these YouTube videos. And while it's important to learn how to properly install your child's car seat yourself, it can also be helpful to go for a free consultation with one of the 42,000 certified child passenger safety technicians who work in communities around the United States. To find one near you, click on this link. An extra word of wisdom: The best time to coordinate your child's safety plan for the car may be in your fifth month of pregnancy. After that, you may be too big and uncomfortable to climb in and out of the back seat to install your car seat.
Use the car seat Correctly: When your baby finally arrives, the last crucial step is making sure your child is properly secured in the seat. Adjust the harness so the straps are coming from the right slot and are tight enough that you cannot pinch any extra webbing once buckled. (Many car seats now have a "non adjust" harness that fits properly when you tighten the harness strap.) For more detailed information, check out the Ultimate Car Seat Guide.
Remember, the safest car seat is the one that is properly installed – and correctly used – each and every time you or anyone else takes your baby out for a ride! If you have any questions about car seats or any other safety issues, please visit safekids.org. We'll be with you every step of the way.