Are Teens Too Plugged In?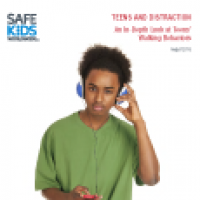 I'm one of those people who is always on the phone. Whether I'm texting or tweeting or instagramming, it comes with the territory of working in PR and social media. I know that texting while driving is extremely dangerous and I've really focused on not checking my phone while I'm driving. But living in the D.C. metro area means I rarely drive. I walk to the metro, then I metro to work. It's part of why I love being in D.C. While I'm focused to not texting while driving, I know I need to also make a concerted effort to not text while walking, especially while crossing the street. This is often easier said than done, but when you consider the risks, it's worth the effort.
New Research
Safe Kids Worldwide, with the support of FedEx, released a research report, "Teens and Distraction: An In-Depth Look at Teens' Walking Behaviors," an observational study that tracked a remarkable 34,000 middle- and high-school students crossing the street in a school zone. A shocking 1 in 5 high school students and 1 in 8 middle school students were observed crossing the street while distracted by technology.
This is just some of the information in the research report, which also includes intriguing insights from discussion groups with more than 2,400 teens.
Gwen's Story
Meet Gwen, an amazing woman who is working to keep her daughter's legacy alive by spreading the message about the dangers of walking while distracted. Gwen tells us about the day her 15-year-old daughter, Christina, was killed by a car and how she is working to prevent this tragedy from happening to other families.
Read Gwen's story, then join us in the Moment of Silence campaign that we started in honor of Christina and the thousands of kids each year who are injured or killed while crossing the street.
Moment of Silence Video
Watch this inspirational video that encourages everyone to observe a moment of silence, by putting down their devices and paying attention when crossing the street. The video honors Christina, and the hundreds of teens who are killed by cars while walking every year.
Moment of Silence Pledge
Join the Moment of Silence campaign by committing to putting devices down when you cross the street. There is a pledge for both parents and teens on Facebook. Share with your family and friends to spread the message. Learn more about it here.
Infographic
Check out this new infographic that shows the devices teens are using and how.
Learn More
Listening to the teens in our focus groups, we developed some tips for both parents and teens. By following these simple steps we can help kids cross the street safely.
Parents
From the first conversation you have with young children about crossing the street safely, talk about the dangers of distraction.
Talk to teens about putting down mobile devices while walking and remind them of the importance of looking up, listening and making eye contact when crossing the street.
Set a good example by putting devices down when you are driving or walking around cars.
Teens
Put devices down, look up, listen, and make eye contact with drivers before crossing the street.
Remember to watch out for cars that are turning or backing up. Walk on sidewalks or paths and cross at street corners with traffic signals and crosswalks when possible.
Be aware of others who may be distracted—and speak up when you see someone who is distracted.
If you need to use a cell phone, stop on the sidewalk and find a safe area to talk.
If you are wearing headphones, pull them down before you cross the street or turn off the volume.
Driveways and parking lots can be especially dangerous because we are walking close to moving cars. Turn off devices in places where cars are going in unexpected directions, like backing out of a parking spot or turning out of a driveway.
Drivers
When driving, look both ways for bikers, walkers or runners who may not be immediately visible or may step into the street unexpectedly.
Slow down and be especially alert in residential neighborhoods and school zones.
Eliminate any distractions inside your car so you can concentrate on the road and your surroundings.