Be an MVP (Most Valuable Parent) - Don't Forget TV Safety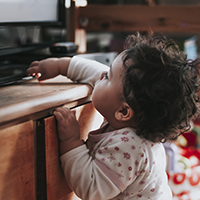 Ready for the big game on Sunday night? You've probably got a list of things to take care of before everyone comes over to watch – get the chili going in the crockpot, wash (or don't wash) your lucky shirt, be sure your favorite chair is positioned just so. But, when you brought home that brand new big-screen TV, did you make sure to safely secure it to the wall?
This Saturday, February 1st is National TV Safety Day, and it's the perfect opportunity to make sure you're keeping your kids safe from a TV or furniture tip-over. A child dies every three weeks in the U.S. from a TV tip-over, with hundreds more being injured. Here are some tips to protect your children:
TV Safety Tips to Protect Your Kids
Mount flat-panel TVs to the wall to prevent them from falling off stands. Follow the manufacturer's instructions to ensure that you have a secure fit.
If you have a heavier, box-style CRT TV, place it on a low, stable piece of furniture that's appropriate for the TV's size and weight.
Use anti-tip brackets or wall straps to secure unstable or top-heavy furniture to the wall.
Enjoy the game! Don't forget to read through all our TV safety tips here.