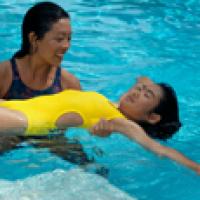 Water, summer and kids having fun are synonymous. That was true for me when I was young, whether it involved a swimming pool, the ocean or even a big scoop of water ice in my native Philadelphia.
We work at Safe Kids to be parents' partners so that the job of parent can be the joy we all envision, and less of the stress that it can be at times. We hope the diligence parents need to exercise around water will lower your stress level. Too much of a good thing can be perilous and the difference between fun and tragedy can happen in the snap of fingers or just a few inches of water.
Tragedies around water happen all too often. Drowning is the No. 1 killer of kids 1 to 4, but it is a tragedy that is preventable. Child drownings in swimming pools inspired Rep. Debbie Wasserman Schultz (D-Fla.), a co-chair of the new Congressional Kids' Safety Caucus, to write an article about the work she did with groups like Safe Kids to pass the Virginia Graeme Baker Pool & Spa Safety Act to make water environments safer. The law was named after a 7-year-old girl was entrapped by a sauna's drain and drowned despite being a strong swimmer.
The congresswoman's article, co-authored by Consumer Product Safety Commission Acting Chairman Robert Adler, was written after several drownings and near tragedies in her Broward County, Fla., district. One involved Kennedy, an 18-month-old girl who climbed out of her playpen, wandered out a sliding door and went into the family's swimming pool, which was not protected by a fence. Her mother, Elesha, left her alone for no more than five minutes, and found her floating in the pool. Luckily, Elesha, was a lifeguard and quickly administered CPR. By the time first responders arrived Kennedy's lungs were cleared of the water, according to a news article. But, not all moms are lifeguards and not all the stories have happy endings.
According to the Wasserman Schultz/Adler article, one of the keys to keeping kids safe in and around water is outfitting pools with the right drain systems, and fencing so that unattended children don't jump or fall in. Four sided, 4 feet high is best, with a self-closing and self-latching gate.
Another important safety tip is to teach kids to swim. But that opportunity is not the same in all communities. Income or race cannot and should not be a barrier to learning to swim. But we know from the Centers for Disease Control and Prevention that African-American children aged 5 to 14 are almost three times more likely to die in water than white kids the same age. The CDC also tells us that swimming lessons reduce the risk of drowning among kids 1 to 4.
Especially for young ones, as Rep. Wasserman Schultz said, the main tool to prevent drowning death is vigilance, two eyes on the prize (or prizes). Safe Kids and other organizations have joined together on a simple idea: a "water watcher" card, which signals that you are "on duty" to supervise your kids at the pool or in open water. You can download our version of a "water watcher" card, and wear it as a reminder to yourself. We guarantee it will be the most fashionable thing anyone can wear to the pool or the beach.
You can also take the Pool Safely Pledge and share it with your friends as a reminder to everyone to keep kids safe around water this summer. Developed by the Consumer Product Safety Commission, the Pool Safely Pledge has one pledge for kids and one for adults so families can work together to stay safe this summer.
Dive into more tips on water safety.