Big Applause for Boy George and his Fundraising in Third Week of The New Celebrity Apprentice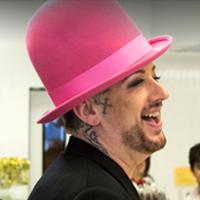 There were tough challenges this week on The New Celebrity Apprentice, but the teams—especially our Ambassador Boy George—rose to the challenges on behalf of their charities. As Arnold Schwarzenegger's nephew Patrick Knapp said in the board room, "Big applause. Fantastic. Great job," to our hero Boy George, who "totally over-achieved" in last night's episode.
During the team's "sweet" task to sell See's Candies and earn the approval of none other than Warren Buffet, Boy George proved why he's one of the most adored pop stars of all time. His fans showed up in droves (some even traveled from Arizona to Los Angeles) to support him and Team Arete. Boy George also used his personal connections to raise more than $119,000. Even though his team fell just short, his efforts made a significant difference for Project Manager Vince Neal and his worthy charity, Keep Memory Alive.
In the first task, shown fittingly on Martin Luther King, Jr. Day, Boy George was part of the development of a Kawasaki ad campaign that stressed the importance of inclusion and acceptance. "And I think that was a really positive message," said Boy George. That meaningful sentiment propelled Team Arete to its fourth win. Congratulations to Project Manager Carson Kressley and the True Colors Fund. Kudos also to Kyle Richards, and her charity, Children's Hospital Los Angeles. It was a tough call, as both teams were great.
Once again, Boy George made us proud and we are so grateful for his continued commitment to Safe Kids Worldwide and our mission to protect kids from preventable injuries. We'll be watching and cheering again next week.