Boy George Shines for Safe Kids on New Celebrity Apprentice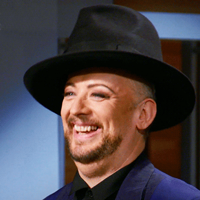 What a start to The New Celebrity Apprentice! Our hero and ambassador, Boy George, kicked off the season as the first winning project manager, earning $50,000 for Safe Kids Worldwide.
Boy George's charm, warmth and creativity shined throughout last night's two-hour premier. He led Team Arete in their task to organize an event highlighting the five-minute Tyover, created by the amazing Tyra Banks. You have to hand it to the fellas. I loved seeing all those tough guys (and even Jon Lovitz) apply makeup with such a gentle touch. It's true: they came, they saw, they contoured.
And what a pleasure to see Boy George in the studio working on a song that helped Team Arete bring home another victory. Congratulations to the hilarious Jon Lovitz and St. Jude, a wonderful charity.
As promised, Governor Schwarzenegger was tough but fair. He stressed the importance of going all out for something you believe in. That's exactly what we do at Safe Kids to save lives every day. As Boy George said, there's nothing worse than losing a child to an injury that could have been prevented. We are empowering everyone to protect kids at home, on the road and at play. Join us and say "I'm In" to get your digital Safe Kids Kit to help us protect kids.
Sign up for a digital Safe Kids Kit here.
We thank Boy George for recognizing the importance of this mission and for lending his considerable talent to making a difference. We can't wait to see what happens next week.