Boy George 'Stays Tough' and Stays Alive in The New Celebrity Apprentice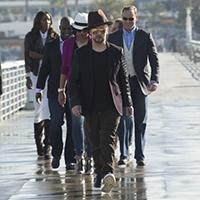 Well, it's more than halfway through the competition and as Governor Schwarzenegger told the contestants in last night's episode of The New Celebrity Apprentice, "It's time to wake up and get tough." Governor Schwarzenegger stressed that only strong competitors remain and that includes our Ambassador Boy George.
We only saw Boy George for one out of the two tasks (he had a previous engagement for the other) but once again, he made his presence felt. In a challenge to promote a new healthy product by Lorissa's Kitchen, Boy George shared his inspirational story about his relationship with food and learning to eat healthy to help lead Team Arete to victory. If you're keeping track, Boy George has now been on the winning team in 5 out of 7 tasks. Congratulations to Project Manager Brooke Burke-Charvet and her worthy charity, Operation Smile.
Even without Boy George, there was still a little magic in the second task when both teams worked to create and promote a digital brochure for the new Harry Potter attraction at Universal Studios. Who knew Matt Iseman was such a huge Harry Potter fan? And by huge, we mean he knew everything from the Golden Snitch to Buckbeak to the Daily Prophet. By leading Team Arete to victory and earning another $50,000 for his charity The Arthritis Foundation, Matt proved the true power in having passion for your mission.
At Safe Kids Worldwide, we know that passion well. It's what drives us to help families and communities protect kids from preventable injuries, the number one killer of kids in the United States. With two weeks to go, we're grateful to Boy George, who just might have enough magic to go all the way.