California Celebrates Protecting Kids on the Move on New Year's Day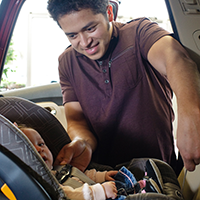 California, make it one of your resolutions on January 1 to follow the new law that requires kids up to age 2 to sit in a rear-facing child restraint system. The new law mirrors new guidelines from the American Academy for Pediatrics, based on the fact that a child's head is heavier through age two and needs the extra support a rear-facing seat provides in the event of a crash. There's an exception that says it's OK to turn a child around if they weigh more than 40 pounds or are taller than 40 inches.
Please provide this important New Year's message to other parents by tweeting out "My child is #CACarSeatSafe, rear-facing up to age 2, recommended by pediatricians." Thanks, Governor Brown for signing this into law. Safe Kids California has provided frequently asked questions on the new law.