Calling All Parents: Join Us to Convince Governor to Sign Child Safety Bill to Better Protect Kids around Swimming Pools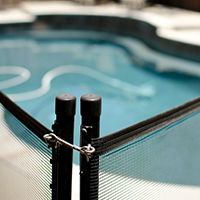 Are you a California parent? If you are, please join us.
California Governor Jerry Brown is currently considering a bill (SB 442) that would make California swimming pools safer. This is so important because drowning is the number one killer of kids in the state ages 1-4. We just learned that California tied with Texas to be the second worst state for drowning deaths in summer 2017, according to the USA Swimming Foundation.
We are hoping you will help us persuade Governor Brown to recognize the importance of this legislation. After all, parents like you are the best experts. Rightly so, the Governor is respectful of a parent's ability to keep small kids from accessing their home pools. We are too. But there are things beyond a parent's control. For example, what if a child is able to get in a neighbor's pool? Or, what if a child is in the care of a babysitter who might not be a vigilant "water watcher?"
Sadly, this is what caused a tragedy to two-year-old Jasper of Fullerton in Southern California.
Jasper's parents were vigilant about his safety. They installed the best practice precautions around their home and chose not to add a swimming pool because of safety concerns. In 2014, Jasper was in the care of his babysitter while his parents were working. The babysitter, without the parent's knowledge, took Jasper to her house, which had a pool, but it had no safety barriers preventing a child from accessing the pool unsupervised. The babysitter left him alone briefly and Jasper quickly found his way to that pool and fell in.
Jasper's babysitter panicked when she found him in the pool and didn't respond with CPR, which she knew. Jasper was rushed to the local children's hospital, lived on life support for a week, with his parents by his side, before his brain stopped working.
Many parents depend on the law to guide them on how to care for their kids, whether it's a car seat or around swimming pools. Please join us by writing to Gov. Brown; it's easy, click here.
Visit the California Legislation Information site for more details on the law.
You can help save a life.