Check Your Car Seat Today With These Virtual and Online Resources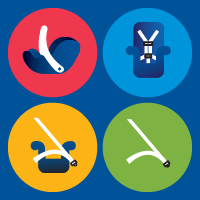 Safe Kids Worldwide is celebrating child passenger safety (CPS) throughout the month of September.
Vehicle crashes are a leading cause of death and injury for American children and correctly used child safety seats can reduce the risk of death by as much as 71 percent. Unfortunately, almost 60 percent of car seats are not used or installed correctly.
Safe Kids and many of our 400 coalitions are offering multiple options for parents to learn virtually during Child Passenger Safety Week (Sept 20-26) and beyond. We have something for everyone, so please take advantage of one of the following resources and check your car seat for common and easy-to-fix mistakes that could save a child's life. These virtual and online options are free-of-charge and consistent with up-to-date COVID-19 protocols.