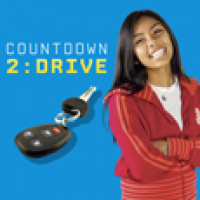 It's been an interesting week at Safe Kids Buckle Up! It's National Teen Driving Awareness Week and we don't usually get involved in teen driving issues. This year is different though, because of the Safe Kids Countdown2Drive campaign. We now have something pretty cool to talk about. Countdown2Drive (C2D) is a program targeted to parents of teens 13-14, and to the teens themselves; who are getting excited about driving in the near future. Data show us that the first year of driving is the most risky and Safe Kids, all about prevention, is all about getting teens ready to drive. We want those new drivers to have the safety basics down before they legally turn the key in the vehicle for the first time.

I had the good fortune to do a satellite media tour this week with the head of GM's Consumer Affairs division, James Bell. We were in New York City doing 32 interviews back to back. Think about it- saying pretty much the same thing 32 times in a row. We both got a little giddy at about interview 25. But something very cool happened during the tour. James, a well –known advocate spokesperson within the auto industry before joining GM got into the whole idea of Countdown2Drive. He wholeheartedly "sold" C2D on air. He publicly admitted that he had been an offender, using his cell phone and even texting while his 8 year child was in the car. He promised never to do that again because he never wants his daughter to use his own behavior against him when she becomes a teen driver. He encouraged parents all over to pay as much attention to their teens as they did when they were babies. He was terrific!

We chatted about some of our Safe Kids research. I told him that when we did focus groups with 11 and 12 year olds for our Safest Generation program and with 13 and 14 year olds for Countdown2Drive, we learned that many of the young kids had already driven, much of the time unknown by their parents. Not 5 minutes later we heard the story in our ear buds about the dad who used his 9 year old as a designated driver in Michigan. As dangerous as driving is for teens, think about the risks to even younger kids! Safe Kids is right on target with our Safest Generation and Countdown2Drive programs as we educate parents and caregivers and prepare preteens and young teens for the day when they will drive. We want them to be safe passengers today and safe new drivers when they are legally able.