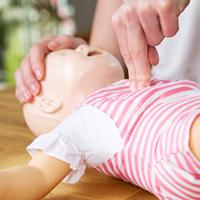 Did you know learning CPR can triple the chance of survival for someone experiencing sudden cardiac arrest (SCA)? Yet, according to the American Heart Association, 70 percent of Americans may feel helpless to act during a cardiac emergency due to lack of education or training.
National CPR & AED Awareness week (June 1-7) is a perfect time to learn more about how to prevent sudden cardiac arrest and the steps you can take if someone around you needs help.
SUDDEN CARDIAC ARREST IN YOUTH ATHLETES
Learning more about CPR and AEDs is also important if you have a child who plays youth sports. Did you know that sudden cardiac arrest is the number one cause of death in youth athletes?
Whether you are a coach, parent, athlete or spectator, here are three things we can do to help keep our young athletes stay safe.
Prevent SCA in the first place. In many cases, a cardiac event occurs due to a pre-existing condition that could have been detected in advance. Once a year, be sure that? all young athletes receive a pre-participation physical exam to allow medical professionals to identify any potentially dangerous conditions that put an athlete at risk.
Help raise awareness in your community. It is important that those involved in the community learn how to do CPR, follow the Cardiac Chain of Survival and are trained to use an AED. Here are a few questions to ask coaches and league administrators before the season starts:
Are the coaches in your community or organization CPR certified?
Is there an AED at the school or the facilities where practices and games take place?
Are coaches, parents and athletes informed about the location of the AED?
Help your community by becoming certified. While we never attend a youth sporting event anticipating an athlete will suffer from sudden cardiac arrest, becoming CPR/AED certified can possibly save a life.
HOPEY'S HEART FOUNDATION
Tina Charles, WNBA All-Star and current player for the New York Liberty, is one of the major advocates bringing attention to the importance of having AEDs in all communities. Tina began The Hopey's Heart Foundation in an effort to improve sports safety and raise awareness about Sudden Cardiac Arrest. The Foundation is dedicated to providing AEDs to schools, communities and recreation centers nationally to help prevent SCA from claiming the lives of aspiring youth athletes.
Safe Kids has partnered with Tina Charles to conduct sports safety clinics that have reached more than 1,000 children through key sports safety messages with an emphasis on the importance of AEDs.
CPR Statistics 2011, Fact Sheet – CPR & Sudden Cardiac Arrest (SCA)