Devastating Crash Shows Importance of Car Seat Safety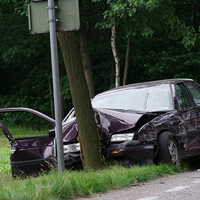 For child safety advocates, stories are the music in our efforts. Joyous music is the best but for Samantha, a six-year-old girl from Henrico, Va., it didn't always look like it was going to be a happy song.
Samantha and her father were headed home from a county fair. She was buckled up in the back seat, but there were two problems. First, her parents had graduated her from a booster seat to a seat belt, but children should be in a booster seat until they pass the seat belt fit test. In addition, Samantha had the shoulder belt behind her—this is risky because it increases the force of the lap belt on the stomach. And that's what happened when the car hit a tree in a devastating crash.
A Good Samaritan named Laura Kenny, 17, drove her truck into a ditch to get to Samantha and her dad. Samantha was rushed to Children's Hospital of Richmond at VCU where several surgeries were required. VCU surgeon Dr. Charles Bagwell said that the injuries were so severe she "just about cut in two" and her intestines were badly damaged. Miraculously, Samantha survived and went home just three weeks later.
More Virginia Good Samaritans, like Samantha's mom Shelly, have been using the opportunity to educate parents and caregivers about the importance of following best practices for how a child should be buckled up in a car. Shelly says Samantha's injuries were "completely avoidable."

Corri Miller-Hobbs, the leader of Safe Kids Virginia and a nurse at Children's Hospital of Richmond at Virginia Commonwealth University, is guiding parents on the specifics on car seat safety, like she did in a story on Richmond's NBC12 and on the Today Show. "You have to ride in a car seat or a booster seat until you truly fit into a seat with a safety belt on properly. Children need to be sitting upright, with their rear ends in the back of the seat and the shoulder belt needs to go across the shoulder and across the chest. Their knees need to be bent over the seat…Putting the shoulder belt behind the back is a huge no-no."
Our thanks to Corri for bringing this to our attention. It couldn't come at a more important time, because the National Highway Traffic Safety Administration just released a report saying that fewer kids are receiving the protection they need in child restraints. Samantha is represented in the disturbing data that 25.8 percent of kids ages 4-7 graduated to seat belts too early, an increase over 2013. Transportation Secretary Anthony Foxx said it just right in a USA Today article: "Risking the safety of future generations by letting children ride unrestrained is not acceptable."
Another resource for parents is the Safe Kids "Ultimate Car Seat Guide," made possible with support from General Motors, which offers parent-friendly tips on everything from how to fit a child into a car seat to how to know when it is time to move to a new type of seat. We hope you will use it and share it with your friends and family.