Done Childproofing? You May Have Missed a Spot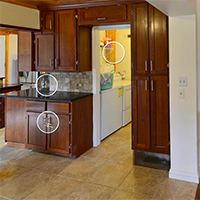 There's a lot for parents to think about to keep kids safe around the home. Securing top-heavy furniture and TVs to the wall, installing gates at the top and bottom of stairs and keeping cleaners locked up, out of sight and reach are just a few. But have you also thought about the laundry room?
Liquid laundry packets are gaining in popularity with more and more parents using them on a regular basis. They are a concentrated, single-dose product designed to dissolve in water. Like many new, innovative products for the home, parents need to be aware of this emerging risk for children. In 2016, poison centers received 11,528 calls for laundry packet incidents, and we know that young children 1- and 2-years of age are at the greatest risk of poisonings.
NEW INTERACTIVE GRAPHIC
To help parents remember important steps to keep their kids safe, Safe Kids partnered with Tide to develop a new interactive graphic focusing on a range of risks in the home. This 360-degree graphic takes you inside a toddler's home to show some of the issues parents may have missed when trying to make their home safer for young children, including proper storage of laundry packets.
So how do you use it? Once you enter the home, click or press to drag the screen around to explore. Click on the question mark to find a spot you may have missed, then click on the checkmark to learn a safety tip.
Explore and share our new graphic, "Done Childproofing? Six Spots You May Have Missed!"
Our partners at Tide have created a new video asking how many risks you can find in an average home. Watch the video and see how you do.
WHAT CAN PARENTS DO?
Remember these simple tips if you choose to purchase liquid laundry packets:
Keep liquid laundry packets up, out of children's reach and sight.
Keep packets in their original container and keep the container closed.
If a child gets into liquid laundry packets, call the Poison Help Number immediately:
1-800-222-1222.
You can download a tip card here.