Encourage Gov. Cuomo to Sign Law to Make NY's Infants Safer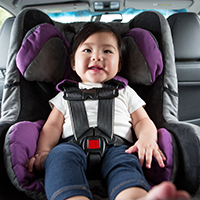 In New York, Governor Andrew Cuomo has just a few days left to act on a piece of legislation (S 6523) making kids safer in and around cars. The bill would require children under the age of 2 to be placed in a rear-facing car seat unless the child exceeds the size and weight limits of the car seat set by the manufacturer.
It's a smart law, based on a standard set by the American Academy of Pediatrics. Medical experts agree that a rear-facing child safety seat does a better job of supporting a small child's head, neck and spine in the event of a crash. In fact, children under age 2 are 75 percent less likely to die or to be severely injured in a crash if they are rear-facing. Based on the evidence, this law has been enacted in eight states thus far, including Pennsylvania and New Jersey. Don't the toddlers of New York deserve the same legal protection as kids from those neighboring states?
Daniee Weaver is one New York mom who thinks so. When her daughter was just 1 month old, her car was hit so hard from the rear that the car was totaled. But her daughter was unharmed. "My daughter was in a rear-facing safety seat," she said. "And she'll remain rear-facing until the weight limit on the seat is reached. I believe that this was a key reason for her lack of injuries and I support requiring rear-facing safety seats for every child." Luckily, the Weaver family knew the standard set by pediatricians. A law like S 6523 will help spread awareness about the correct placement of kids in car seats.
New York State is a star when it comes to laws protecting kids from unintentional injury, and Gov. Cuomo has been very supportive. Please take the time to ask Gov. Cuomo to sign S 6523 by sending an email here or a tweet like this one:
S 6523 can make NY kids safer rear-facing in car seats up to 2-years-old. Please sign bill @NYGovCuomo @SKWAdvocate http://bit.ly/2xRfZFw