Get Cooking With Fire Safety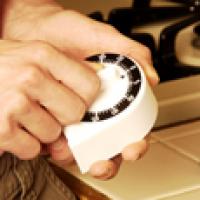 We would like to thank Amy Lebeau, the senior project manager for public education at the National Fire Protection Association, for guest authoring this blog.
Fire Prevention Week is here and this year we're focusing on the place in our homes where fires start most often – the kitchen. Fire Prevention Week is the perfect time to get the family together and practice your home fire drill. Create and practice a home fire escape plan with two ways out of your house in case of a fire. Get a stopwatch and time how fast your family can escape. The kids will love it. Here's a handy worksheet to help get you started. Our friends at the National Fire Protection Association want to share a few more great resources for you and your kids to talk about fire safety at home.
The kitchen is often at the center of family life—but leave cooking unattended and you could have a serious fire on your hands. Cooking equipment is involved in roughly 150,000 home fires per year, and many of those fires start because people aren't paying attention. While a few minutes may not seem like much time away from what's cooking, that's all it takes to start a fire that could destroy your home and harm your family.
That's why the National Fire Protection Association (NFPA) has chosen the theme "Prevent Kitchen Fires" for Fire Prevention Week, October 6–12, 2013. During that week, firefighters and educators across North America will be spreading the word on how kitchen fires can start, and what kids and families can do to prevent these fires. By teaching kids about fire safety, we can make sure that they know just what to do in the event of a home fire, knowledge that could very well save their lives.
Visit sparky.org/fpw for free kitchen safety activities, including a fire safety hidden picture, kid-free zone printable activity sheet, and our Kids in the Kitchen guide which gives parents suggestions for age-appropriate jobs in the kitchen. Parents can also download a free Sparky the Fire Dog® app and eBook at sparky.org/appworld.