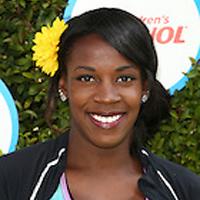 Hey guys! It's summertime and the livin' is easy. My name is Alysia Montaño and I am an Olympic runner proudly representing Team USA. As summer approaches, I just wanted to give you guys a couple of tips on keeping your family safe this summer.
Hydration
As a professional runner, I know just how important it is to be well hydrated. Our bodies are mostly water, and this is especially true for our kids. Dehydration can be a serious issue and every drop of water counts! Symptoms of dehydration range from muscle cramping to faintness or dizziness, nausea and rapid heartbeat, even emotional instability and very high body temperature. To help combat these nasty side effects and to help maintain body temperature, everyone should drink plenty of fluids, especially when playing sports. Young athletes should drink about 10 gulps of water for every 20 minutes of play, and teens should drink about 20 gulps. Just because you don't feel thirsty doesn't mean that you don't need water.
Playground Safety
If your children are anything like I was, I'm sure they want to hit that playground during the summer! A little bit of care can go a long way to curb many preventable injuries, and checking playground equipment is a great first step. Many playing surfaces contain heat-absorbing rubbers or metals that can get extremely hot in the summer sun. Make sure all playground equipment is cool enough before letting your kids play on it. Also check for rusted or broken equipment and report any hazards to the school or appropriate local office. And, as fashionable as flip flops can be, try to dress your kids in closed-toe shoes when they are on the playground, and avoid clothing with drawstrings and accessories like necklaces or scarves that can get caught on playground equipment to prevent injuries. Finally, choose play areas that are appropriate for your child's age, and have protective surfaces such as rubber mats, instead of asphalt or concrete. These surfaces can really help cut down on the scrapes and bruises and they tend to absorb less heat!
Pool Safety
I may run for a living, but one place you will NEVER find me running is around the pool! Make sure the kids stay safe by ensuring that they always walk in pool areas, which can be incredibly slippery. I know you've heard it a million times, but always make sure you've got an eye on your loved ones whenever they are near a pool. Don't be distracted by things like reading, texting or talking on your phone. The best way to keep your kids safe in and around water is to make sure that they have proper supervision, regardless of how well they can swim. Swimming can be fun for the whole family, so don't forget to enroll your kids in swim lessons this summer! Teach young kids to always swim with an adult and remind older kids they should swim with a buddy, every time.
Here's wishing everyone a fun and safe summer! For more fun and safety tips throughout the summer, follow @alysiamontano and @safekidsusa on Twitter.