Gold Medal Progress on Protecting Kids on the Move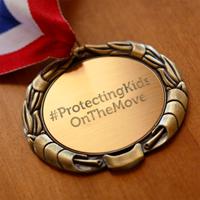 The USA excels as a world leader in so many ways—just look at how our athletes are doing in Rio De Janeiro. We know that we are not gold, silver or bronze at everything, but that makes us even more determined to do better.
One of the areas where we can perform better is protecting kids on the move, in cars and on the road. If you think we're at the gold medal level, here's a pop quiz: which country has performed better in improving its road crash death rate: Slovenia or the U.S.? How about Spain or our country?
The fact is that we rank 20th in the list of 20 of the world's more affluent nations making progress in road crash fatalities. This comes from a report from the U.S. Centers for Disease Control and Prevention (CDC).
Now, it's key to understand that all of these nations are making progress, and the U.S. has made strong strides in cutting its fatality numbers.
From 2000-2014, the number of kids 19 and under has declined by 56%--6561 kids in 2000 compared to 2912 in 2014.
It is estimated that 91% of kids were placed in child restraints in 2013, compared to 51% in 1999.
Seat belt use among all ages increased from 60 percent in 1984 to 88 percent in 2012.
Reports and data like those from the CDC are indispensable because they act as a call to action to all of us: parents and policy makers, government regulators and automakers, and parents. We need to do better. We can do better.
In its report the CDC has given us clear direction on how we can do better.
Graduated Driver's Licenses: We can save a lot of lives by enhancing the experience requirements before a teen obtains a full-privileges license. A recent Safe Kids report concluded that every state can improve its graduated driver's license law, and parents and teens should make family agreements on their rules of the road.
Buckle Up, Every Time: Buckling up car seats and seat belts has to reach 100% acceptance. It has to be every time, every ride and everybody (in the car). Enforcement efforts like the successful "Click it or Ticket" must continue and similar efforts must be directed at car seat use. Every state should pass a law requiring kids to be rear-facing until age 2.
Safe Routes, Healthier Kids: We must ensure that the paths kids use to get to school are as safe as they can be. This culture of safety will give parents the confidence that their kids can walk and bike to school without incident, leading to healthier, smarter kids. There's a two-word mantra which drives Safe Routes to School planning: SLOW DOWN.
We're on the road towards better protecting our kids on the move. Road safety is not a competition, but a gold medal winning approach to reducing road crashes means always looking at the data because it helps us design the roadmap towards excellence. Thanks to the CDC for this latest data report. Now, the roadmap is putting in action strategies that have worked in other places—whether it's Oslo or Oklahoma. It can be innovations like using back-view cameras to stop school bus passers or "high visibility enforcement" campaigns like "Click it or Ticket" to encourage drivers to buckle up both their own seat belts and their children in booster seats. We can win the gold in protecting kids on the move just like Simone Biles and Michael Phelps did in Rio.
Safe Kids partner on road safety is the General Motors Foundation