Here's What You Can Do, Watch a Total Eclipse of the Sun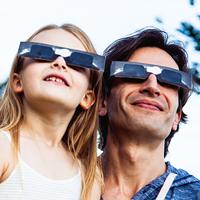 Solar eclipses are rare enough occurrences, with the most recent one coming in August 1999. You couldn't even watch that one from the United States – the most recent one that was visible from America was back in 1979. And to find one that was visible through the entire contiguous United States is even rarer – you'd have to go back almost a century, to June 1918. This Monday, August 21, however, every American from coast to coast will be able to take part in this incredible event. So how can we watch the eclipse safely with our kids so they can properly appreciate such an amazing moment?
It's exciting to see a solar eclipse, but looking directly at the sun can permanently damage your eyes or even cause blindness. To safely look at the sun during the eclipse, you and your family can get special solar filters, like the ones used in "eclipse glasses." If you haven't gotten yours yet, the American Astronomical Society has a list of reputable vendors of solar filters and viewers. You can also contact your local library or see if there are watch parties in your communities. Remember – to be sure your glasses are safe for viewing, they should have the number 12312-2 included.
Here are some great tips from Children's National Medical Center on how you and your kids can properly and safely watch the eclipse:
Anyone planning to view the eclipse should wear a pair of solar viewing glasses or handheld solar viewers that contain solar filters. Always supervise children using solar viewing glasses or viewers with solar filters.
Using protective eyewear will allow observers to look directly at the sun during the eclipse. Sunglasses should not be used in place of solar viewing glasses – they will not protect your eyes from damage. Homemade filters are also not safe to use to look at the sun.
Always inspect your solar filter before you use it – if it is scratched or damaged in any way, do not use it.
Do not look at a partially eclipsed sun through an unfiltered camera, binoculars or telescope – even if you are wearing solar viewing glasses. A special filter is required to view without damage to your eyes.
The American Academy of Ophthalmology also has a helpful video:
It's also not just watching the eclipse that could prove dangerous. The Federal Highway Administration is warning drivers to take caution on the roads next Monday, noting that this is a distracted driver issue as well. WTOP reports:
When the eclipse is in progress on Monday, Aug. 21, [Federal Highway Adminstration spokesman Doug] Hecox said, drivers should not pull over alongside the road and shouldn't wear eclipse glasses while driving. Instead, plan ahead and stop somewhere to take it all in.
"Enjoy the show from a place of safety," Hecox advised.
If you do keep moving on the road, pay close attention.
"Just because you aren't watching it, doesn't mean somebody else isn't being distracted by it," Hecox noted.
There's great concern, Hecox said, for commercial truck drivers who might be distracted trying to glimpse the eclipse. There's concern for cyclists and pedestrians as well.
"They too could be a victim of drivers who aren't watching the road, but are instead watching the sun," Hecox said.
You can learn more about the eclipse from NASA, including more information about the path of the eclipse and when viewing will be best in your area.