How to Become a CO Pro in 3 Steps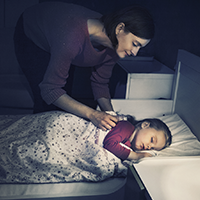 As temperatures around the country continue to fall, gas-powered generators and heating units can provide wonderful benefits to families when used properly. But they also underscore an important necessity in the home: the need to protect your family from carbon monoxide.According to the CDC, approximately 50,000 people in the U.S. visit the emergency department each year due to accidental CO poisoning.
Carbon monoxide (CO) is an odorless, colorless gas that can cause serious health risks, especially young children. Carbon monoxide poisoning can result from faulty furnaces or other heating appliances, portable generators, water heaters, clothes dryers, or cars left running in garages.
Here are 3 steps to help you become a CO pro and keep your kids safe.
Install a carbon monoxide alarm. A smoke alarm alone will not warn your family if there is a carbon monoxide leak. Install a working carbon monoxide alarm, or a combination smoke and CO alarm, on every level of your home, especially near sleeping areas. Test alarms every month and replace according to the manufacturer's instructions.
Prevent CO leaks in your home. CO can get into your home through even the smallest of openings, so move generators and outside grills away from doors, windows and vent openings. Have your fuel-burning heating equipment, such as fireplaces, heaters and furnaces insprected every year. Check vents for the dryer, furnace, stove and fireplace on the outside of your home to make sure they are clear of snow and other debris.
Warm up vehicles outside of your garage. If you need to warm up a vehicle on those cold winter mornings, remove it from the garage immediately after starting it. Don't leave a car, SUV or motorcycle engine running inside a garage, even if the garage doors are open.
Here's a bonus tip: If the CO alarm sounds, quickly leave your home immediately and move to a safe location outside where you and your family can breathe in fresh air before you call for help.
Learn more carbon monoxide safety tips and be safe this winter and beyond.