How to Raise a Real Estate Tycoon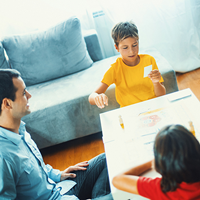 My 6-year-old son, Winston, has become a real estate tycoon.
I only realized the extent of Winston's strategic understanding of things like mortgages, cash flow and negotiation when he started playing a game of Monopoly over the Thanksgiving holiday with his Aunt Sarah.
I still consider myself a Monopoly novice but thankfully my husband, David, is more experienced, and apparently, he's taught Winston well.
"My dad always buys the properties near the start – the cheap ones," Winston announced when Aunt Sarah even considered wasting her money on Pacific Avenue.
"My dad doesn't buy the utilities."
"My dad likes to put houses and hotels on the pink properties - you can make a lot of money when you have hotels."
It was fun to listen to their discussion, watch Winston follow the rules (for the most part), and even see him learn how to manage his Monopoly cash. Winston can't wait for the day when he gets to be the banker.
Watching Winston also made me realize that toy safety is more than just buying age-appropriate toys or keeping toys with small parts away from young children – a priority for us since Winston's sister, Beau is only 2-years old and the game pieces are a choking hazard. Finding the right toy for the right kid at the right time is also a great way to bond, have fun, and share the joy of play with the kids in your life.
Safe Kids Worldwide is proud to partner with the Toy Industry Association to promote toy safety and safe play this holiday season. Visit our Toy Safety page for tips and check out playsafe.org for great guidance on selecting the perfect toy for the kids in your life.
---
This blog was written by Shannon Sullivan.