An inspiration, An Actor and Changing Tragedy to Triumph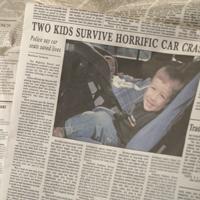 What if you could change the news to avoid a tragedy or save a life?
That's the question I asked myself when I was reading the newspaper one day and saw a story about a young child who died in a car crash. It turned out he wasn't buckled up. It broke my heart to know the news could have been much different if the child had been safely secured in a car seat, and that feeling inspired an idea for a new series Public Service Announcements called Changing the News.
Changing the News is about turning tragedy into triumph. If features acclaimed actor Neal McDonough, who you'll recognize from Minority Report, Band of Brothers, Desperate Housewives and much more. Neal and his wife, Ruve, are true champions for children, generously donating their time and talents to make life better for families around the world.
The Changing the News video was filmed in the McDonough's home. The adorable one-year-old boy you see playing in the background, is their youngest child. It's his acting debut and he nailed it on the first take.
My hope is that these PSA inspires parents, kids, caretakers and anyone else who watches it to do the little things that can make a big difference. Something as simple as buckling a car seat or checking the batteries in a smoke alarm can change the news and make a world of difference for parents, families and communities around the world.
I have one favor to ask: If you like these PSAs, please share it with all your friends. Let's change the news together.