International Walk to School Day Blog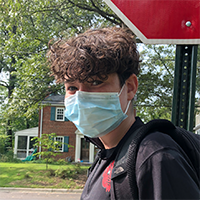 Every year, on the first Wednesday of October, schools and communities around the world celebrate International Walk to School Day. This year due to the pandemic, some students may still be walking to and from school while others might just be walking around their neighborhoods. Either way, this is a great time to talk to your kids about how to walk safely.
Road safety is an issue that affects everyone. Every hour, about two children age 19 and under are injured or killed after being struck by a vehicle while walking. This great video features children from across the globe talking about why road safety and having safe places to walk is important to them.
New Research on Child Pedestrian Safety
With the support of FedEx, Safe Kids Worldwide undertook a review of pedestrian injury trends and conducted a survey of teens ages 13-17 around risk-taking behavior. The report revealed that while all children are at risk of pedestrian injury, those ages 12 to 19 are at greater risk. The risk of fatal and nonfatal injury significantly increases with age beginning at about age 12, an age that coincides with several other factors important to preventing pedestrian injuries in children. To read about what those factors are and other report findings, you can read the full report here.
Tips for Parents
Teach kids at an early age to look left, right and left again before crossing the street.
It's always best to walk on sidewalks or paths and cross at street corners, using traffic signals and crosswalks.
Teach kids to make eye contact with drivers before crossing the street.
If kids are walking when it's dark out, teach them to be especially alert and make sure they are visible to drivers.
Be a good role model. Set a good example by putting your phone, headphones and devices down when walking around cars.
For more pedestrian safety tips, visit our Pedestrian Safety Tips page.
For more tips and resources to keep kids safe from injuries during the pandemic – including this Parents Guide – visit our Coronavirus Resources page.