It's National Teen Driver Safety Week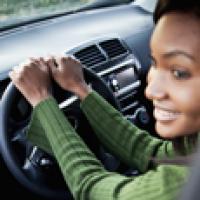 It's National Teen Driver Safety Week, and it's still hard to believe that it has anything to do with me.
I still remember putting my babies in their first car seats. The long drive home from the hospital in the backseat scared that someone was going to hit us. Since my career is all about keeping kids safe in and around cars, it was a big part of my kids' life, too, which was not always easy.
When my daughter, Olivia, was in the 5th grade, some of her friends teased her because she was still riding in a booster seat (as she should have been since she was less than 4-foot-9-inches tall). Finally, Olivia decided enough was enough and blurted out, "it's because my mother loves me more than yours."
More recently, I was proudly watching my son, Spencer, speak to a group of Safety Patrols on motor vehicle and pedestrian safety. He hit all the highpoints and fielded questions flawlessly. I guess he has actually been listening all of these years.
The coolest thing is watching both my kids transform into young adults and becoming their own people.
Based on his driving, Spencer is 16 going on 86. He put off getting his learning permit for a year – he claimed it was too much of a responsibility. Now when he's practicing, he'll barely leave our community or a vacant parking lot. One time, we convinced him to drive through a senior residential area, where he felt right at home. It's a start.
Olivia is turning 15 in January and if she has her way, we'll be in line at the DMV at 8 a.m. on the morning of her birthday for her permit. She's going to be the Indy racer in the family because she loves speed and is always right.
As for me, I've embraced the fact that my babies aren't babies anymore. There is nothing more liberating for them, or me, than the thought of handing over the keys and having them drive themselves.
However, the reality is that teen driving statistics for both the driver and passenger are alarming and a wakeup call that I still have work to do. It's important that my kids, like all kids who are about to drive, prove that they will make smart choices, can handle peer pressure, and recognize unsafe situations.
If they want their freedom and independence then they will have to earn my trust and show me that they are mature enough to handle the responsibilities that come with driving.
That's where Teen Driving Week can help. Our partners at Children's Hospital of Philadelphia did a great job of putting together resources and great tips to keep your teen drivers and their passengers safe.
The tips include things like putting down the cellphone and other electronics when you are driving and making sure you're setting a good example because your kids are watching even if it seems like they're not.
One more thing: If you have kids who are getting ready to drive, we have a great program called countdown2drive. Learn all about it here.
Someone once told me that the teen years are the hardest. Sometimes it seems true. But honestly, I'm having fun being a part of their lives. Keeping them safe on the road is just another part of the journey.
For more information about getting your teen ready to drive see our tips.