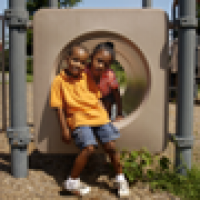 My job is a pretty good one. When I'm asked what I do at Safe Kids, I usually distill my answer to three things: make sure kids have fun, stay active and are free from injury. Not a bad 9-5, right? Practically speaking, much of my time is spent on the third item, keeping kids safe while at play. And what better time to reflect on how great my occupation is, and celebrate all three—kids having fun, staying active and remaining safe—than during Playground Safety Week.
While it's vital that our kids engage in both free play and organized sports, it's equally important that we put into practice a few preventive measures that can keep them safe. Before your kids head out to tackle the playground at the nearby park, consider taking a few precautions listed below.
A Few Tips on Playground Safety
Active supervision. Nothing can replace it.
Keep toddlers under age 5 in a separate play area, away from equipment designed for bigger kids.
To avoid strangulation risk, remove hood/neck drawstrings from children's clothing and outerwear. Also, leave helmets, necklaces, purses and scarves at home.
Remember to send your kids out there well hydrated. Don't wait for them to say they are thirsty. And be sure your kids drink water every 15-20 minutes during play.
Do a quick scan of the playground. Make sure equipment looks well maintained and free of any sharp objects.
The best groundcover for a playground is shredded rubber, wood chips or sand, extending at least six feet in all directions around the equipment. Grass, soil and concrete are not good playing surfaces so if you have a choice, go to a playground with one of the recommended surfaces.
I hope you'll join us in our awareness efforts during National Playground Safety Week. Share the above tips and/or our Playground Safety Tip Sheet with other parents, family members and neighbors. Oh, andone last thing, coming from an adult who forgets her inner child from time to time: I challenge you to get out there with your kids and lose yourself in play, too. The monkey bars are calling your name!
More About Recreational Safety