Keep Your Kids and TV Safe and Sound This Holiday Season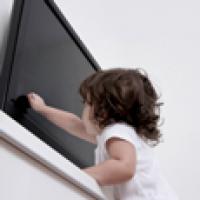 It's that time of year again – the season to enjoy festive meals with family and friends, deck the halls with colorful trimmings and put together your holiday wish list.
This season, our partner, SANUS, is joining the holiday spirit by pledging its support to keep kids safe. For every TV mount sold this holiday, Sanus is donating a portion of its sales, up to $25,000, to help us protect kids from TV tip-overs.
And it's easy for anyone to get involved.
Enter to Win a TV and Protect Kids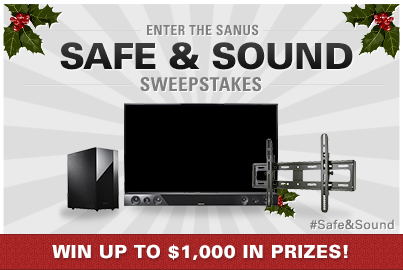 Just enter the Safe & Sound Sweepstakes, where you can register to win a new TV, mount and sound system. With your help, we can make sure kids stay safe and injury-free.
Learn How to Prevent TV and Furniture Tip-Overs
Did you know that every 45 minutes a child is injured from a TV tipping over?
This is something we can prevent with a few simple steps:
Secure your TV. Mount flat screen TVs to the wall to reduce the risk of TVs toppling off stands. Or if you have an older tube TV, be sure to place it on a low, stable piece of furniture.
Secure your furniture. Use brackets, braces or wall straps to secure furniture to the wall. Install stops on dresser drawers to prevent them from being pulled out, making it easier to fall.
Why It's Important
TVs can tip over if children reach or climb onto furniture, so if a new TV is on your shopping list this holiday, help your little ones stay safe by making sure it's secure. Prevent accidental tip-overs with TVs already in your home by doing a quick check to see if they're stable or easy-to-tip.
Want More?
Watch this video to learn what every parent needs to know about TV tip-overs.