Keeping Kids Safe When Moving to a New Home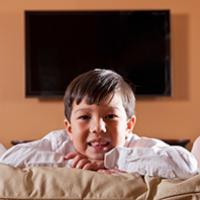 For many families across the U.S., summer is not only the time enjoy the warm weather and a break from school, it's also the time where families are relocating into new homes. Growing up in a military family, a summer move to a new city was the norm for me every two or three years. In all, I moved 11 times as a kid, and although my family has dubbed ourselves "professional movers," each time was as stressful as the time before. Still, between hiring a moving company, changing addresses on driver's licenses and registering for a new school system, one thing we probably didn't focus on nearly enough was injury prevention.
Now that I work for Safe Kids, I can think back to several areas in many of our homes that may have been unsafe for young kids, especially in the midst of moving and unpacking. So if you're on the move this summer, these tips will help keep your kids safe in your new home from the moment you move in.
TV/Furniture Tip-Overs
When setting up your TV and furniture in your new home, use brackets, braces, mounts or wall straps to secure them to the wall and prevent tip-overs.
Place TVs on sturdy furniture designed to hold the weight of a large TV, such as a television stand or entertainment center.
Poisoning
Unpack medicines first. Store all medication up and away, out of children's reach and sight.
Keep liquid laundry packets up, closed and out of children's reach and sight.
Store and lock all household products and cleaning solutions out of children's reach and sight.
Falls
If your new home has stairs they're probably in a different place than the kids were used to in your old home. Use safety gates at the tops and bottoms of stairs and attach them to the wall, if possible.
Windows are great spots for kids to check out their new surroundings. Properly install window guards to prevent unintentional falls. Be sure to include an emergency release device so that the window can be opened in case of emergency.
If there is one thing I have learned during my many moves, it's that there's no place like home, especially when it's safe.