Know Before You Go: 4 Tips for Black Friday and Holiday Shopping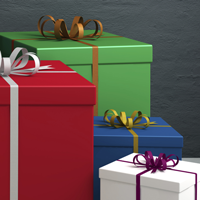 As the weather gets chilly and holiday anticipation begins to grow, it's time to start making lists – lists for Thanksgiving dinner, lists for Santa, lists for winter-weather preparation, and, of course, lists for holiday shopping.
Before you join the crowd on Black Friday to kick-start your holiday shopping, here are a few important things to add to your list.
Buying a new TV? Don't forget the wall mount.
If you purchase a new TV for the holidays or if you have one at home, ask yourself: Can the flat-panel TV tip over? If so, be sure it's properly secured. Mounting your TV is a safe solution. The safety of your children and your own peace of mind are well worth the time and effort. See our TV and furniture tip-over tips.
Buying new electronics? Keep an eye on button batteries.
Little kids love to explore, and when they find something new, what's the first thing they do? Put it in their mouths. Each year in the United States, more than 2,800 kids are treated in ERs after swallowing button batteries. That's one child every three hours. So keep lithium battery-controlled devices – remote controls, calculators, watches, key fobs, flameless candles, musical greeting cards, flashing holiday jewelry or decorations – out of sight and reach of children. See our button battery tips.
Buying a new bike? Don't forget the helmet.
We have a simple saying: "Use your head, wear a helmet." It is the single most effective way to prevent head injury resulting from a bicycle crash. So if you plan to surprise your kid with a shiny new bike this year, make sure it comes with a shiny new helmet to match! See our bike safety tips.
Buying news toys? Make sure they are age appropriate.
Toys and games are tons of fun for kids and adults, but toy-related injuries may be more common than you think. Before you've settled on the perfect toy, check to make sure there aren't any small parts or other potential choking hazards. And if you've got kids of different ages at home, there are a few other things to think about. Teach your older kids that certain toys aren't appropriate for their younger siblings. Another great idea is to use separate toy boxes: One for big-kid toys, one for little-kid toys, and one for toys that everyone can play with together. See our toy safety tips.
Want more tips? Here are a few more ways to keep your family safe during the holiday season.